Make Money Online with ySense (former ClixSense) Review
UPDATE: ySense (former ClixSense) has changed its status from a payed to click (PTC) to making money from tasks, offers and referring.
Earn & Get PAid to do Surveys, Tasks, Offers and Refer others. Since 2007 February. Must Join ysense!
The below information is just left for historical reference...
>--------------- When Clixsence was a PTC ------------->
ClixSense is a unique opportunity for you to earn extra money for FREE! You get paid to view other members advertisments. You get paid for each full ad you view.
Join a dedicated community for free and start getting paid just for browsing websites, play games and more. Refer your friends and multiply your earnings!
• Browser Toolbar With Instant Notification of New Ads Available
• Earn Up To $0.02 Per Click and Up To $0.008 Per Referral Click
• Earn Even More With Our Affiliate Program
• Payments Via Check, Alertpay and PayPal
• Win Daily Prizes Up To $5.00
• Unlimited Direct Referrals
• Guaranteed Ads Daily
ClixSense offers one of the most lucrative affiliate programs in the PTC industry. Not only are you compensated for referring others you also get commissions whenever your direct referrals click on PTC Ads, purchase advertising or whenever they or their referrals upgrade to Premium through 8 levels! With multiple streams of income your earnings potential is unlimited. Commissions for Premium members are substantially higher than Standard members - upgrade your account to Premium and multiply your earnings today!
Each time your direct referrals click on PTC (Paid-to-Click) Adverts not only do they get paid but you get paid too! With unlimited referrals your earning potential is endless. There are 4 different ad types, each offering a different commission.
For Premium Members we offer one of the most generous signup commissions per referral in the PTC industry, but only active referrals generate signup commissions and after clicking at least 20 PTC Ads.
After August 2011:
Only active referrals generate signup commissions and after earning themselves at least $1.00 on PTC clicks. Standard members do not earn signup commissions.
Earn even more whenever your direct referrals purchase Ad Credits or ClixGrid links. For example if you are a Premium member and one of your referrals buys a ClixGrid link you immediately earn $1.50 for doing nothing!
This is where the true power of the ClixSense affiliate program comes into play. With 8 levels there's no limit on how much you can earn, although you will've to upgrade yourself to take full advantage of this because Standard members earn only from their direct referrals. Whenever your direct referrals upgrade, you're instantly paid $2.00! If you are a Premium member and if your referrals refer others who also upgrade you are instantly paid $1.00 for each upgrade through 8 levels! You just got paid for doing nothing!
ClixSense Review Excellent! Top 50 Sponsors in One Week!!ClixSense has a very user friendly interface and is pleasant to use. I managed to get In the Top 50 Sponsors easily.
Excellent ClixSense Review from me! In the Top 50 Sponsors All Time Active Referrals and Last 24 Hours in New Referrals as thassosbeach Only in One Week!!!! If I can do it Anyone Can!!
Promote ClixSense and Make Even More Money!!
If You dont know, Advertising at ClixSense on its PTC Micro Ads has a Great Success on Getting Traffic to your Site or Referrals to other programs!
June 2011 Got in the Top 50 Sponsors Last 24 Hours in New Referrals
June 2011 Got in the Top 50 Sponsors All Time in Active Referrals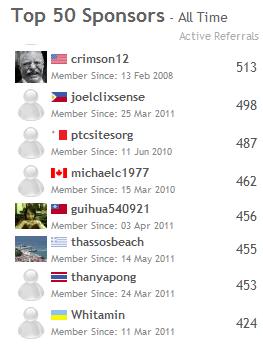 <--------------- When Clixsence was a PTC -------------<
ySense (former ClixSense) Review